Since its start, bitcoin has become one of the most valuable and volatile assets on the market. In 2021, it was worth more than US$68,000, but in 2022, its value has dropped.
Bitcoin has gained a cult-like following and reached impressive heights in just over a decade. Bitcoin's meteoric rise is like that of no other commodity, resource, or asset. It is now the most popular digital asset.
Bitcoin paved the way for other cryptocurrencies to grow, and on November 10, 2021, it reached an all-time high of US$68,649.05. Between March 2020 and November 2021, bitcoin went up by more than 1,200%. This was because there was a lot of cash on the market and investors were interested. But its steady rise came to a sudden stop in 2022, when investors became less willing to take risks because of rising prices and economic uncertainty.
What caused the price of bitcoin to go up, and where is it now? Find out by reading on.
How the 2008 financial crisis affected the price of Bitcoin
Bitcoin was made in response to the financial crisis of 2008. Since then, its price has gone up and down a lot, reaching US$19,650 in 2017 and then staying below US$10,000 for years.
When it was first introduced in a white paper called "Bitcoin: A Peer-to-Peer Electronic Cash System" in late 2008, the cryptocurrency was meant to change the way money worked.
The nine-page "manifesto" was written by an anonymous person or people who went by the name "Satoshi Nakamoto." It makes a strong case for and lays the groundwork for a cyber-currency.
The peer-to-peer electronic payment system is protected by cryptography and was made to be open and hard to censor. Using blockchain technology to create an unchangeable ledger that prevents double spending, bitcoin's early adopters were most interested in its potential to take power away from banks and financial institutions and give it to the general public.
This was especially appealing as the effects of the 2008 financial crisis spread around the world. In 11 months, the US stock market lost $7.4 billion in value, and the world economy shrank by an estimated $2 trillion. This financial crisis has been called the worst since the Great Depression.
Bitcoin price history: The crypto establishes itself
Bitcoin started trading at US$0.0008 in July 2010, rising to US$0.08 by the end of the month. The cryptocurrency then fared quite steadily, gradually increasing into the $10 area until peaking at $250 in April 2013.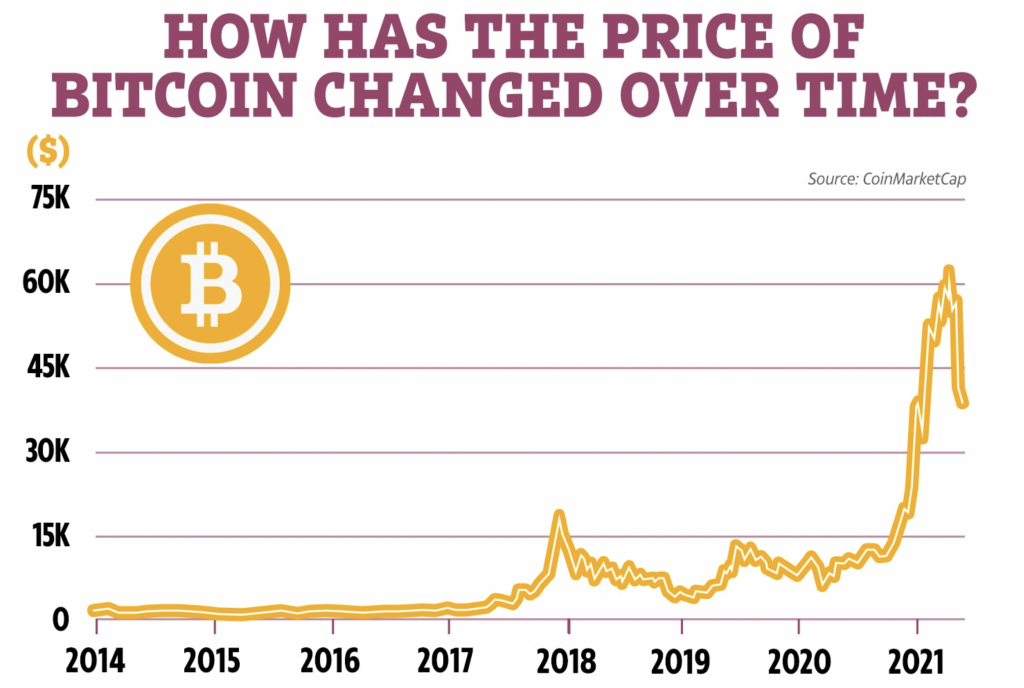 COVID-19 sends the currency higher in the Bitcoin price history
The steady price climb of bitcoin began on January 1, 2016. It began the year at $433 and concluded it at $959, a 121 percent rise in value in a year.
The next year saw the widespread acceptance of bitcoin. Between January and December 2017, extra attention, the launch of new cryptocurrencies, and mainstream financial media coverage increased the value of the crypto-coin by 1,729 percent, rising from US$1,035.24 in January to US$18,940.57 in December.
This record-breaking level proved unsustainable, and bitcoin succumbed to its own normal volatility, which progressively destroyed its prior gains. Despite the drop in value, the virtual currency remained over US$3,190, a level it has not reached since.
Since its inception in 2008, opponents of bitcoin have cited the digital currency's brief history to justify their unwillingness to embrace the new commodity. As the currency is particularly vulnerable to uncertainty, concerns have emerged about how it might perform during a financial crisis or recession.
2020 proved to be a litmus test for the digital coin's capacity to withstand financial disruption. After beginning the year at US$6,950.56, a broad selloff in March reduced its value to US$4,841.67, a 30% drop.
The low presented a purchasing opportunity, allowing bitcoin to recoup its losses by May. Bitcoin, like the safe-haven commodity gold, has emerged as a protective asset for the Millennial and Generation Z generation.
The surge continued into 2020, with the digital asset finishing the year at US$29,402.64, a 323 percent year-over-year gain and a 507 percent climb from its March low.
In contrast, gold, one of the best-performing commodities in 2020, increased in value by 38% from the low in March to the high in August, reaching an all-time high of US$2,060 per ounce.
Bitcoin price history: All-time high reached
In November 2021, the price of Bitcoin reached an all-time high of US$68,649.05, a 98.82 percent rise from January's price. The digital asset had lost some value at the end of the year, closing the 12-month period at US$47,897.16 – a 62 percent year-over-year rise.
Tesla's (NASDAQ:TSLA) statement that it has acquired US$1.5 billion worth of bitcoin contributed significantly to the increase in 2021. Tesla's announcement that it will begin taking bitcoin as payment for its electric automobiles added to the momentum. In response to complaints from investors and environmentalists, the electric vehicle manufacturer is presently performing due diligence on the amount of renewable energy utilized to generate the cryptocurrency prior to enabling consumers to purchase vehicles with it.
Bitcoin profited from the increased production of currency in reaction to the epidemic, as investors with greater wealth sought to diversify their portfolios. During the market fluctuations of 2020 and 2021, the success of the world's first cryptocurrency increased interest and investment in other cryptocurrencies and digital assets.
Additionally, 2021 witnessed the development of non-fungible tokens (NFT). NFTs are digital data units that are stored, sold, and exchanged using blockchain technology. These unique crypto assets are frequently used in the artistic and digital media industries.
It is anticipated that the market for non-fungible tokens would surpass $40 billion in 2021, driven only by cryptocurrencies, the only accepted method of payment for NFTs.
Bitcoin's popular adoption may be a sustained price driver as more companies accept the digital token as payment; the expanding market for digital assets and the rising Metaverse may all contribute to the momentum of the cryptocurrency market.
The history of Bitcoin's price in terms of market declines
While notoriety has propelled the first digital currency to all-time highs, the biggest obstacle for the crypto coin is its frequent volatility, which was in full effect at the beginning of 2022, when values plunged by more than 50 percent.
Bitcoin has stayed stable at the US$30,000 mark, despite record-setting global inflation and approaching economic worries. Despite this huge price decline, it is impossible to overstate bitcoin's impressive performance. Gold, the asset most similar to cryptocurrencies, has only increased by 627 percent over the last century, from US$283 in January 1921 to US$2,060 in August 2020.