Why a single whale may have frightened a lot of Shiba Inu coin investors and how the dip will influence more buys and create a path to 1 cent pricing.
A single whale investor in Shiba Inu coin may have scared off many individuals from continuing to invest in the joke cryptocurrency.
The $3 billion Shiba Inu Coin wallet move
According to Forbes, a single Shiba Inu whale investor — someone who buys a lot of a single commodity, increasing its rarity and pushing up the price — shifted approximately $3 billion worth of Shiba Inu coins from its initial wallet, raising concerns that other bigger Shiba Inu holders will cash out.
"It seems that there were four transactions out of that account yesterday, each moving $695 million of shib to a separate account — for a total of $2.78 billion," Tom Robinson, co-founder of blockchain forensics startup Elliptic, told Bloomberg of the whale investor. "Whoever it is bought the shib on Uniswap about a year ago for not much money."
So, what does all of this mean? According to Forbes, the action may frighten Shiba Inu coin owners.
"If significant cryptocurrency holders — whether bitcoin, shiba inu, or dogecoin — start shifting coins, traders may get concerned that the market is going to be swamped, possibly pushing down the price," according to Forbes.
What caused the Shiba Inu Coin to crash?
This is consistent with what I said earlier this week on Shiba Inu coins. Shib coin saw a significant drop, according to Benzinga, "as investors expected attempts by whales to sell their holdings by transferring coins to exchanges."
As I reported for the Credit Cadabra, the Shiba Inu community was a bit disappointed by the news from Kraken, a cryptocurrency example platform that announced it would not add Shiba Inu coin to its platform yet since it is currently going through a review process.
According to Business Insider, "several users questioned why the exchange would make a guarantee it did not plan to follow, while others threatened to remove their Kraken accounts." "However, some urged supporters to be patient."
Why Shib Inu Coin Will Eat Another Zero
Shiba Inu coin approaches a 200% increase as SHIB prepares to eat another zero.
Shiba Inu's price is moving inside a continuation pattern, indicating that a breakout is imminent. Breaking free from this setup, on the other hand, predicts a tremendous upsurge that might more than treble the market value of SHIB. As a result, investors should keep a careful check on the Dogecoin killer.
Shiba Inu prices rose 32% after bouncing off the flag's lower trend line, indicating a breakout.
A crucial daily closing above $0.0000649 signals the commencement of a 220 percent rise to $0.000197.
If SHIB closes convincingly below $0.0000479, the bullish argument will be invalidated.
While the ascent is straightforward, market participants should expect Shiba Inu price to slow down around $0.000123, which is the bullish target from the bullish pennant pattern that broke out on October 20.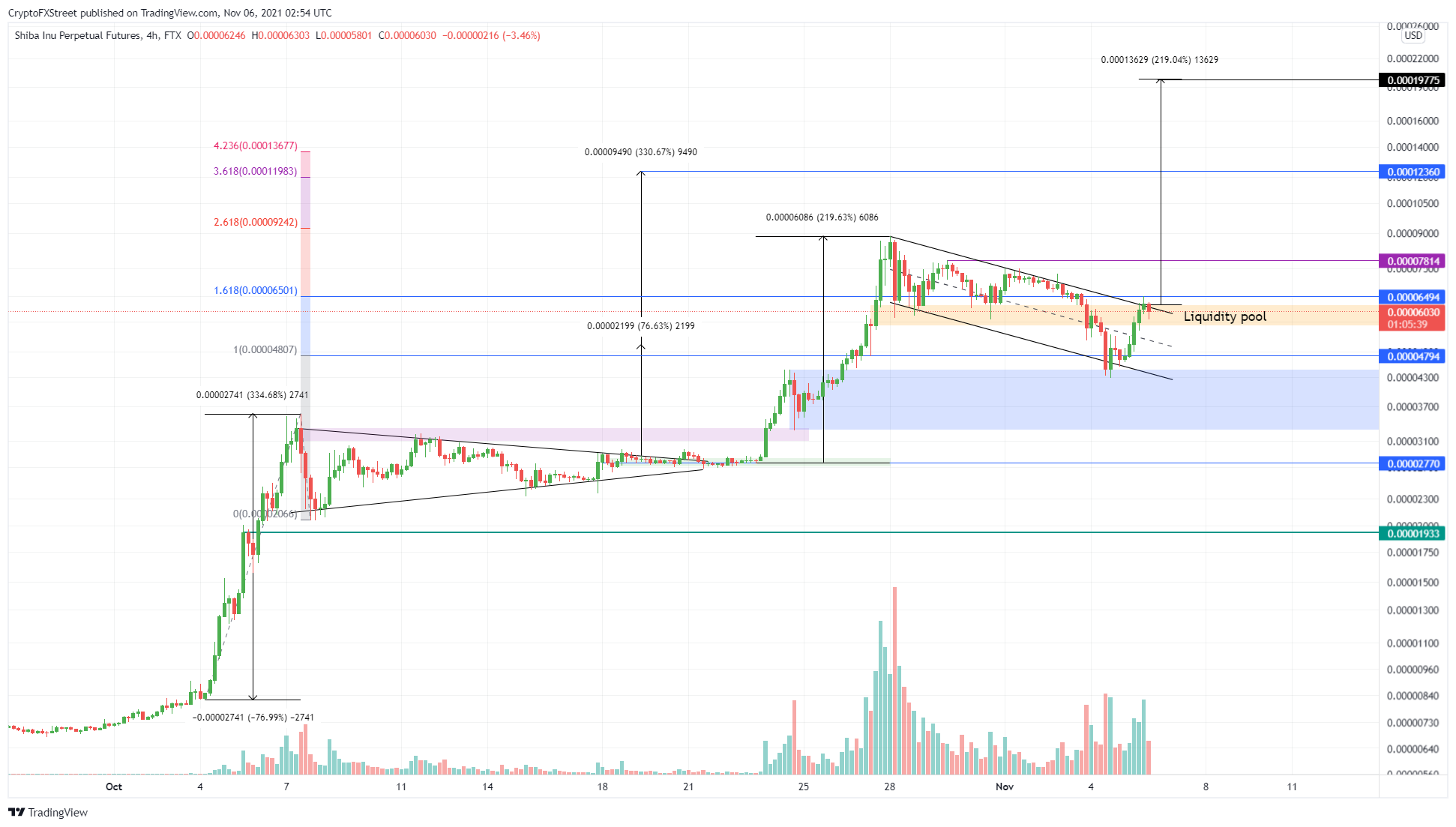 If, on the other hand, the Shiba Inu price retests $0.0000479, it will form a shaky double bottom pattern, allowing the bulls to resume the rise. However, if the buyers fail to defend this barrier, the bull flag's bullish thesis will be invalidated, forcing SHIB into the demand zone, which extends from $0.0000328 to $0.0000446.
Why Shib Inu Coin will reach 1 cent and can Shibu Inu Coin reach 10 cents before 2025?
Half of the circulating supply of SHIB was transferred to the wallet of Ethereum's founder. Who then burnt 90% of it in a public display as part of a philanthropic gift to the India COVID Relief Fund. (A link to the burn may be found at http://Shibtoken.com) There's no purpose if we can't even get the real supply right.
There are fewer than 400 trillion coins in circulation… but with all the burns, that number is far lower. There is a 1% burn on every transaction on NOWPayments, and there is another burn going on in the community called Shibburn, in which the community is requesting everyone who owns more than 100 million SHIB to burn merely 1 million. You may use the etherscan to go to the BLACK HOLE wallets.
SHIB launched its Shibaswap decentralized exchange, which will soar the price in a few years.
Without doing anything, SHIB has outperformed DOGE in terms of timeline. DOGE took years to achieve the percentage of growth that SHIB has in less than two years.
SHIB developers are working on developing its own blockchain to separate from ETH, which will be beneficial in the long run.
There are three tokens on the SHIB-network: SHIB, LEASH, and BONE, with potentially one or two more to follow later… not including the NFTs
SHIB has begun offering NFTs named "Shiboshis" that cost 10,000 Shiba Inu coins which will help burn additional circulating supply.
6% of every transaction is redistributed to all holders of Surge Inu, Surge Inu promises to buy SHIB and $SURGE at any major market cap milestone and burn the supply.
Is it possible for the coin to reach one cent? Yes.
Is it a worthwhile investment? Depends. Yes, if you purchase the dip. No, if you purchase at the high and then it drops for 6 months to a year and you become afraid.
Yes, if you purchase at the high and hold for a couple of years, regardless of whether the market collapses for a while.
Is it possible that Shib Inu Coin will reach a dollar? Perhaps… but not until 2030 at the earliest.
If you would like assistance repairing your credit from a reputable credit repair company, please contact us or view more blog content.